Online Logo Design Apps Can Help You Get A Good Logo
4 min read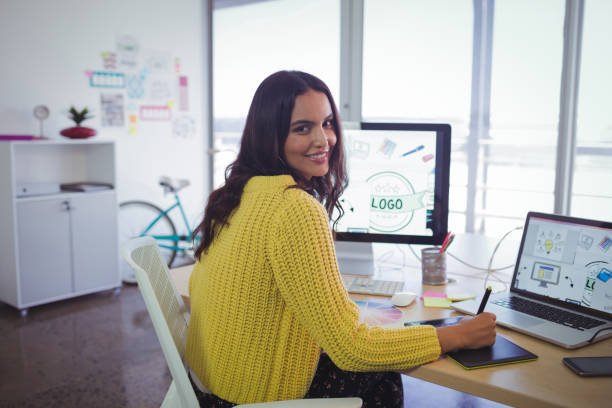 A logo is only meaningful if it can connect with the target audience in the best way. They have to connect with them emotionally, memorably while impacting them positively. Most probably, by hiring a logo design agency with an experienced team of graphic logo designers, you can get a professionally designed logo. This often comes with a hefty price tag that not many people can afford. This option usually works for the businesses that have just started as they can get their logos designed easily and quickly. Online logo design services benefit many businesses these days, which is why we see them being utilized a lot.
Possible Options To Get A Logo Design
Every business has these three options for getting a logo design. You can see if you lie in any category to have a professionally designed logo for yourself. These range from the most affordable ones to the most expensive ones.
Hire A Logo Desing Agency
You can avail yourself of professional logo design services by hiring a logo design agency. They have a team of multiple experienced and professional logo designers to help you with your requirements. What you must know is that it can be costly for startups. Some even have a price tag so big that it is just out of the budget for most businesses.
Hire A Freelance Designer To Get Your Logo Designed
The market is filled with freelance logo designers who can help you design your logo according to their self-set prices. You get to see the portfolios of the freelance designer before you hire so that you know the person you are hiring is an experienced individual who actually knows how to design a logo. Moreover, their price varies based on their years of experience and the requirements you present them with. You can research a bunch of freelance designers and choose the one that fits your budget perfectly.
Launching A Logo Design Contest
Many online websites let you launch a logo design concept so that you can have multiple logo designers submit their concept for the logo, from which you can select the one that suits your business. Every website charges money for this that can vary on several factors.This is quite a reasonable method for somany businesses out there.
Use A Logo Design Application Or A Logo Generator
Online logo design generators are now hot in the market these days. They provide you with an opportunity to create your own logo with the help of their template-based logo options. It is the simplest option to design a logo according to your preferences, requiring minimal effort. This indicates that anyone, even with no prior knowledge,can design a logo this way. If a logo is needed for a small project, then this has to be your go-to option. The businesses that just set to start their journey can have this option to work for them.
It is essential to know that there is no customizability option. What you do is that a logo you are looking for can be easily created these online logo generators. Many businesses have been using them, and results for them have been nothing but impressive. Unless you think that these apps can not handle the requirements you have for your logo, you should be fine.
What Do You Mean By A Logo Design App?
It is a program that enables you to design a logo on your tablet and mobile phone quite easily. They are similar to the logo makers available on the web, but they can be easily used on your smartphones directly. Having a big screen is not the thing of the past as you can easily design a logo quite quickly.
How Do They Work
You have to pick an icon initially or a template by the options you see.
You can easily prefer the colors you want to use in the logo. Also, the backgrounds and fonts are easily available, along with other crucial elements.
Once you are done designing the logo, you can download iton your phone. Different apps provide different ways to download the final logo.
Benefits Of Using Logo Desing Apps
The On-go Convenience
It has to be understood that you can use them anytime and anywhere. The life of an entrepreneur is always in the move, and apps like these can actually help him get things done without wasting any time. Spending some minutes here and there can help save a great amount of time. Also, you can make multiple iterations until you are fully satisfied with the result and how you want it to look.
Easy and User-friendly Interface
Also, we know that apps always have a much better and easy user interface, so it becomes even more accessible to users without any prior experience. The screens mobile phones have are small, so the app is always well-organized and provides an ease to the users making their work quite manageable. You can use your fingers to zoom in focus on the little details. It seems much more fun than using a mouse to make changes to a logo.
Modern Design
Online logo design services that businesses look for have to be professional, as a logo is the first point of interaction between the customers and a company. It has to put up a good first impression so that the business itself looks professional. The range of designs you get in the logo maker apps makes them different and distinctive. The modern designs of logos are available in such a variety in these apps that they provide multiple options to users. This is something they appreciate and keep using apps like these.
Conclusion
A professional logo design is what every business needs today to appear unique in the market. A logo can help a business look credible to its customers, which is essential. It can be an excellent way to design a logo that you want for your business with such convenience.