7 Must-Have Features To Include In An Inspection Application
5 min read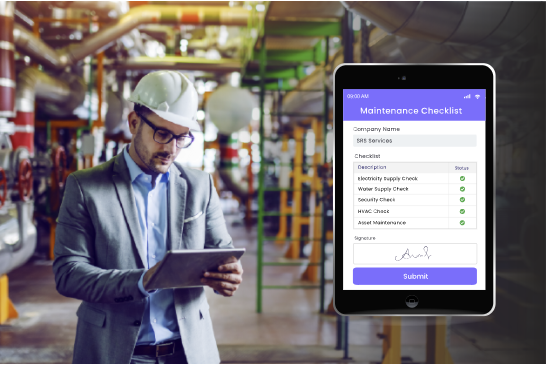 Inspection of a business's internal and external workflow operations is essential. It emphasizes safety, efficiency, credibility, and improvement in the business process, never breaking the success flow. Whether it is a small or large business, entrepreneurs do not compromise on their business success and find every possible way to maintain it. In this case, entrepreneurs workout on business strategies, processes, products, and services to develop the potential to make them competitive. Inspecting is crucial for every business to measure their services' capabilities and status among several improvement steps. For this, some businesses follow the traditional paper pen method, while others prefer an inspection application to access and generate evaluation reports quickly.
Businesses are no longer engaged in traditional processes; they modernize workflow operations with the latest technologies. Research shows that about 50% of businesses have improved their performance efficiency with digital solutions, in which inspection is at the top of the list. Several business inspection apps are available now, working effectively to evaluate different business aspects. These apps serve exceptionally to save time and cost, leading entrepreneurs to focus on their long-term goals.
Here we will have rounded up some important facts about an inspection app that is really helpful to conduct a successful inspection.
7 Features To Include In An Inspection Application
Hundreds and thousands of businesses work online and offline, serving single or multiple services in a broader range. They all have a unique mission, vision, and objective to serve their customers. However, they have unique business idealogy but one thing in common: service quality. Every entrepreneur wants to provide the best services to its customers, so they evaluate their production and other aspects to improve them. Regular or timely inspection of a business's processes is the key to its success, and if it is done with an inspection application, it is nothing but transformative.
Following are some of the key facts that promote inspection apps other than traditional processes.
Integration With Multiple Operating Systems
An audit inspection app is made flexible to integrate with multiple operating systems seamlessly. We all know that about 80% of people own a smartphone and spend most of their time using mobile applications. Since the dependency on mobile phones is increasing, many mobile app development companies are launching their smartphones; like Android and iOS.
Since evaluation has become the need of every business process, inspection apps are being made using cross-platforms to support image capture in real-time to report issues. Hence, a key fact adds a plus point to an inspection app's value.
Offline Functionality
The ability of an audit application to work offline is a great benefit for businesses. Sometimes, auditors are assigned to inspect a site where there is no internet connection, or the connectivity is slow. In this case, an inspection app that works offline is worthwhile to collect and store data offline. So, when auditors are provided or able to reaccess the internet connection, the inspection app will automatically synchronize the data to the cloud. In this way, auditors do not have to wait longer for the internet connection to proceed with the evaluation process.
Cloud-Based Technology
Mobile app development companies use high-level software to build safe and secure audit apps that exceptionally work for businesses. They use cloud IT services in inspection appsto secure the evidence and other business information in the cloud. So, whenever auditors or employees need information, they can easily take and access them from anywhere at any time.
Real-Time Report Making
Generating real-time reports is a great reason for businesses to switch to digital auditing versus paper pen inspection. Collecting information and making a report is a daunting task, while with an inspection app, it's a snap. Inspection apps are suited with advanced features that support real-time functionalities. Auditors can access, share, collect and report information in real-time. This feature saves time and costs over other complex and costly software.
GPS Functionality
GPS tracking is another key feature that makes the inspection application stand apart. The core objective of an inspection app is to evaluate any aspect, property, equipment, function, andprocess to improve its working. Since mobile app development has progressed rapidly, many additional features are added to make them extraordinarily capable of performing complex operations. GPS functionality in an inspection app enables it to track the exact location of the evidence to be audited. Hence, it promotes flawless evaluation, enabling businesses to focus on important tasks.
Infographic created by Track Your Truck, a GPS vehicle tracking devices provider
Automated Inspection
An audit inspection app comes up with various automated functions that accelerate the inspection process and produce helpful results for businesses. Mobile app professionals are highly focused on implementing new technologies in the apps to make them next-level innovative, feature-rich, and capable of performing single and multiple tasks. Artificial intelligence, machine learning, the internet of things, virtual and augmented reality technologies are being implemented in inspection apps to make them capable of working efficiently and producing result-oriented outcomes.
As a result, businesses can easily find their weak areas and collaborate with auditors to know improvements. Hence, using an inspection application is a great idea for businesses to conduct the evaluation systematically.
Improved Data Security
Improved data security is the key benefit for businesses to secure their information to keep their success private from their competitors. Inspection is the evaluation of a business's procedural flaws that help them find where they are standing or how to rank at the top to compete in the market. For this purpose, they need to audit several aspects to develop potential in them so that they are able to produce result-oriented outcomes.
An inspection app follows a next-level IT services infrastructure that encrypts data with an end-to-end connection. Hence there is no chance left of data security risks.
Conclusion
In summary, inspection is a crucial business process that every business conduct after a certain time to make sure whether all the functions are working finely or not. For this purpose, businesses either hire a third-party company or use an inspection app to evaluate their processes. It is not only an inspection of processes, but it is a step that leads businesses towards success.