Top Qualities of Highly Effective Service Providers
5 min read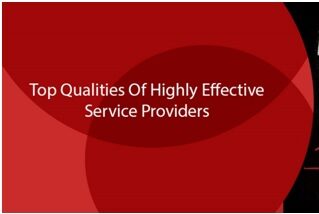 As the demand for better and faster internet keeps increasing, internet service providers are working towards increasing their efficiency and other qualities to ensure that they don't lose their customers. Customers do want speedy internet services but they also want benefits along with those services. The competition for good internet in the market is a lot more intense than it was before. Not only are service providers expanding their broadband options but they are refining their customer relationships and attracting a lot of audiences.
Amidst all this, people are unsure of which service provider to choose. While there may not be that many options, it is still confusing for people to choose one, especially if they both seem to have good reviews and are equally recommended. So, how are you supposed to make a decision? Well, here we will be discussing some qualities of highly effective service providers to help you determine what to look for in your service provider.
Value-Added Services
Internet is not the only need of the customer, which has become apparent. In 2020, it is determined that the average U.S. household has more than ten devices. We can only imagine how the number must have doubled or tripled two years later. Not only do you need the internet for your phone, but your laptop, computer, smart TV/regular TV, and other smart devices will need it too. So, most internet service providers offer packages and bundles that have internet paired up with some other service like TV and telephone. There is also the possibility that instead of a service, you might get some benefits like free installation, free modem, etc.
Wave Internet, for example, offers a free Roku streaming device for 12 months along with internet services so you can stream Netflix, Hulu, and more. Terms and conditions for getting this Roku device may differ depending on the package. For more details, head on to our website and find out!
Meeting Customer Expectations
The constant change in the market and the environment requires service providers to keep themselves updated with everything. New technology, increased competition, and changing demands are all reasons why any service provider can be left behind at any time. It is essential for service providers to keep updating their technology and to enhance their customer service and other benefits that they can provide to the customer.
Customer-Centric Organization
The key to the success of a service provider is to provide a smooth internet experience to the customer, no matter the conditions of the weather or the time of day. Usually, this can be done by most service providers but it gets difficult during peak times. Consistency of speed and up-time should be considered a priority. Most businesses and people want to be able to enjoy the internet speed and get their work done.
The internet is something that doesn't get a rest since it is used when people are working and even when people are enjoying themselves. Moreover, even when it is nighttime, there is always someone who might be up due to an assignment or schoolwork or just because they like to enjoy late-night movies or gaming. So, the service provider has to make sure that their internet remains functional all through the day and night.
Latest Technology
As a lot of customers depend on a service provider to provide them with a strong internet connection, it will become a major problem if the connection was to fail suddenly and the cause turned out to be old or overused equipment and technology. Naturally, if something like this were to happen, The service provider would lose many, if not all, of its customers and their website would be filled with bad reviews. This would mean they would have little to no chance of new customers again, even if they were to upgrade all their technology, equipment, services, etc.
Compliance with Laws
Threats such as hacking, information stealing, and other cybersecurity issues are increasingly becoming difficult to deal with. As the security methods keep changing and updating, so do the threats and forms of hacking. That is why it becomes quite an issue and doesn't seem to be going away soon. The solution for this, so far, is to keep updating your security guidelines, procedures, and software to keep customer information protected.
Updated Staff Skillset
One of the most important qualities of a good service provider is how good their customer service is. Customer service representatives are like the face of a brand as they are usually the first ones that customers come in contact with. How the customer service rep treats and communicates with the customer is important. The first impression can make or break a customer's trust in the brand.
So, to make sure the customer service rep is doing his job right and giving the best possible impression, training and workshops are a must. This training will prepare the customer service rep as to how they should deal with each customer depending on their choices and needs. Workshops will keep them updated regarding how to get a read on customers and their body language. All of this plus the updated information regarding the plans, packages, and bundles and their features and prices will make for a good impression on the customer.
Managing Change
The most important quality of an effective service provider is being able to adapt and manage change. These last few years have been proof enough that everything can change drastically in a matter of months. Just like the world wasn't prepared for anything and everyone went into a sudden lockdown and the dependence on technology and the internet suddenly skyrocketed, an organization should be ready for anything. It is considered an important quality of a good organization. Preparing and always being ready to adapt to the changes is a recipe for success.
This is the role of the higher-ups in any organization. Planning ahead and future goals should be made with the thought in mind that anything can change at any time. Although nobody can predict what that change will be, having an open mind and being flexible enough to take action right away helps a lot. If you are not able to adapt to the change, then the company can go out of business. That's why this is something that cannot be overlooked.
Key Takeaway
There are many more things that can help you determine how reliable an internet service provider is but these are the main points that need to be checked. Granted some things cannot be checked by merely asking around and searching online, but whatever it is that can be checked should be. After all, it will be helpful to you in deciding which service provider is more reliable for their services.
If you are living in the U.S. and want to find out which service providers are available in your area, Buy TV Internet Phone can help you. You can find a plethora of reliable internet service providers offering varying plans and bundles depending on your needs. Moreover, you can also check out the benefits offered along with the packages from the website. All you need to do is to enter your zip code!