Learn B2B Marketing Strategies to Enhance Your Brand on Instagram
5 min read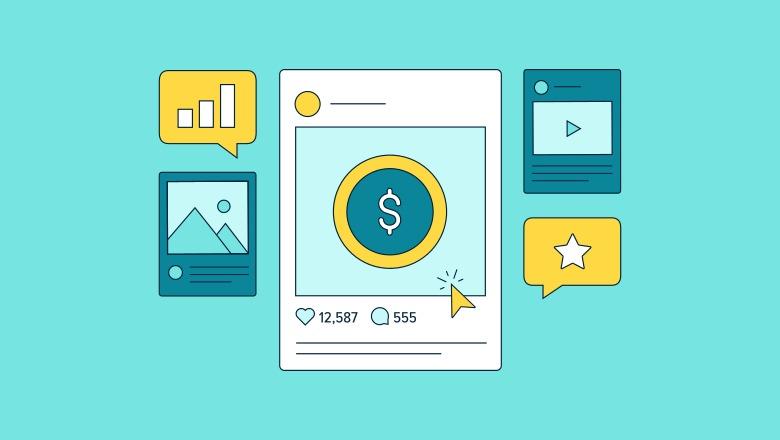 Nowadays, B2B marketers utilize social media to research and connect with vendors and buyers. Many marketers use platforms like Twitter and Facebook to the fullest make their business better. But still, most of these marketers are not using Instagram as much as they use the other two for marketing. Instagram is no longer just a photo-sharing platform anymore,  having more than a billion active monthly users, it is now one of the biggest markets in the world. Instagram is a platform with a younger audience having almost 80% of people below the age of 35. So this is the platform for the future. Okay, then how can you use Instagram for B2B marketing? There are some strategies that you can learn and apply to enhance your B2B Brand.
CREATE GOOD PROFILE
Having an attractive and professional profile will turn the viewers into your followers. Moreover, it will create a good impression on your brand. You can make your profile look good and appealing by following these tips.
Profile picture. Visibly having your brand logo will make your audience remember your brand.
Profile name. Setting a primary keyword that is related to your business stream as your profile name, will help your profile to show up when people search for it.
Bio. Crafting this simply and understandably will let people know about your page. Adding emojis will be eye-catching. Including your target page link and a call to action button will be ideal for your business.
TELL YOUR BRAND STORY
Creating a good feed depends on the posts you have created. So you have to plan the posting styles to make your feed alluring. You can find many templates online and, you have to post them in a way that resonates with your brand and should be visually pleasing. People come to Instagram to see good engaging content, not to buy products. A visually attractive post that oozes your brand will make people connect with it and would never wait to visit your profile. Many B2C brands do this Visual branding technique effectively which is a very important factor on Instagram.
COLLABORATE WITH INFLUENCERS
Influencers on Instagram play a huge role in brand marketing. Many B2C brands collaborate with influencers to promote and market their product. Collaborating with influencers will not only help you with promoting your product but also gives your brand a wider reach and increase brand awareness. Sources say only 11% of B2B brands use influencer marketing because, in B2B, you have to target business professionals rather than customers.
Most of the B2B brands are skeptical about influencer marketing. Choosing the Influencer to partner with is the most crucial part and when this is done right, you are almost there. When you implement the right content strategy under their partnership, you achieve brand credibility and a wider reach. But remember, the Instagram Explore page is what most users focus to achieve which demands higher engagement for your content. Obviously, people engage on content with relatively more likes, views, comments and shares and such content certainly reaches the Explore page. If consistent engagement is something that your posts are still missing out on, get instagram likes that are automatic to level up engagement rates and enjoy great results. Now a whole new set of B2B audience pools always stays hooked with your profile to watch what you post.
SHOW BEHIND THE SCENES
People always love the background process as they are interested in looking inside of a process. More than interesting content, BTS shows more of a humane touch to your profile and brings out your professional capability to the viewers. Showing this will increase your credibility among the professionals which can even push them to do business with you and increase harmony among your employees and will make the workplace better.
EXPLAIN YOUR PRODUCT
In B2C, you have to advertise your product by doing various gimmicks to push people to buy it. But in B2B, you need to explain your product by telling its attributes and the service it provides because the target audience is also a professional like you. No gimmick will work with professionals. Even if something works, it will not help your brand for a long time. You have to do it simply. Making and posting a small explainer video about your product or service including its important features and what it offers to the consumers, will create a good impact on your brand.
ADVERTISE YOUR BRAND
Advertising your brand is slightly different from the visual branding we saw earlier. It is a straightaway advertising technique but in an organic way. Posting your brand's expertise and its achievements will help you with advertising. You may have seen many business firms adding the term 'since' that denotes the time of its establishment that naturally brings their brand some respect from the viewers and will increase credibility. You can Add quotes from experts about your brand and share reviews from your customers that act as a high reward tactic in marketing.
RUN PAID ADS
Instagram allows users with business accounts to promote their posts and pages by running paid ads which is a recommended tactic for brands because it will make your job a little easier. The best thing about Instagram ads is, you can select your target audience based on location, age, and various factors So that the ads reach only the feeds of your target audience. It means there is more possibility in generating leads. Moreover, The Instagram algorithm makes your ad reach its target audience by using various data and analytics. Around 38% of B2B marketers use Instagram ads for promotion. More than creating leads, it will increase your brand awareness to a higher level.
OFFER DISCOUNTS AND GIVEAWAYS
Doing some exclusive sales helps you in keeping the followers stuck to your page. Everyone loves the special treatment. Just like that, offering your existing customers some exclusive sales will make them your regular customers. Giving discounts to the products for a limited time, announcing seasonal offers will improve your sales. Giveaways are a great technique to lure more people to your profile and change them into followers. Giveaways work like a charm for B2C marketers. Many B2B marketers do not do this but it has a great potential to create more leads.
CONCLUSION
So these are some strategies that you can follow which can bring effective results for your B2B brand on Instagram. The process might be slow but, if you keep doing it, the results will come good in 2022.