How to Convert MBOX to Outlook PST Emails and Attachments
4 min read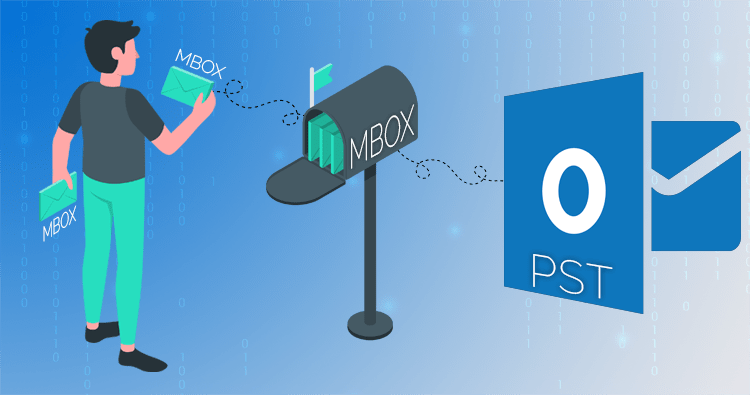 We've discussed how to transfer emails and attachments from an MBOX file to Outlook in this post. A full explanation of the operation of specialist software that simplifies the process of convert MBOX to Outlook PST emails is provided.
MBOX is a widely used file format for storing emails in plain text and attachments in an encrypted file format. It is supported by a number of popular email applications, including Apple Mail, Thunderbird, Entourage, and Eudora.
While the MBOX format has numerous advantages, it is still a platform-dependent format. Therefore, if you're switching from an MBOX-based email client to Outlook, you'll need to convert your MBOX files to Outlook PST files using the most relevant tool MBOX to PST Converter.
How to Migrate MBOX Emails and Attachments to Outlook PST?
Two methods exist for importing MBOX emails and attachments into an Outlook PST file. You may choose the appropriate solution according to your preferences, albeit an automatic solution is recommended.
How to Manually load MBOX Files into Outlook
The conversion of MBOX files to Outlook may vary depending on the MBOX client used. We will demonstrate how to convert MBOX to Outlook PST for Apple Mail in this section.
Before you go, we'd like to warn you that this is a lengthy process that requires the installation of Eudora and Outlook Express on your PC, rather than Apple Mail and Microsoft Outlook for Windows.
The manual procedure consists of four stages:
Exporting data from Apple Mail to an MBOX file
Open Apple Mail and navigate to the mailbox you wish to convert.
Choose Mailbox and then click Export Mailbox.
Choose the folder in which you wish to save the MBOX file.
File transfer from Apple Mail to Eudora
Change the extension of the exported.mbox file to.mbx.
Transfer the file to Eudora's default file saving location: C: Documents and SettingsQualcommEudora"
To open the changed MBOX file, launch Eudora and double-click on it.
Eudora should be closed
Eudora to Outlook Express file transfer
Open Outlook Express and navigate to the File tab, then to Import and then to Messages.
Next, select Eudora.
Navigate to the folder in which you stored.
mbx document
Choose OK. Click Next, and then Finish.
Importing an Outlook Express file into Microsoft Outlook
Open Outlook and navigate to File.
Choose Open and then Import.
Select Import Internet Mail and Addresses at this point.
Then click Next. Choose Outlook Express.
Ascertain that the Import Mail option is selected. Continue and then click Finish.
After the conversion is complete, the data from Apple Mail can be opened in Microsoft Outlook.
Automated MBOX File Export to Outlook
The manual method outlined above is completely free, and if you are technically savvy, you can implement it. However, if you're looking for a simple, direct, and immediate answer, MBOX to PST Converter is the way to go. The software enables you to convert MBOX to Outlook PST files without sacrificing any data. The software intelligently exports numerous MBOX files to Outlook PST in their entirety, including all emails and attachments. It is a simple-to-use application with streamlined workflows.
To move all emails and attachments from MBOX to Outlook, follow these steps —
Install this programme on your Windows machine by downloading it.
Begin by starting the software and then adding MBOX files.
Check the preview of the MBOX file and select items to export.
Select Convert to PST now. Select a new or existing PST file. Additionally, you can create numerous PST files for each MBOX file.
Select the PST file's location using the Browse option.
By clicking the Convert Now button, the process of converting MBOX emails to an Outlook PST file with attachments will begin.
Reads More: How to Import OST Files to Outlook PST FilesΙ Unlimited Number of for Free
Advanced features enable the software to convert all emails and attachments from an MBOX file to an Outlook PST file. It allows you to load Thunderbird files directly from their default location. It is a do-it-yourself (DIY) programme with a straightforward interface that makes operation simple. All that is required is to add MBOX files and specify the location of the Outlook PST file. The remainder will be handled by the software.
Conclusions
If you want to manually convert MBOX  to Outlook PST file, you can do it, but it is inefficient and risks data loss. To avoid data loss, we recommend that you utilise a third-party MBOX to Outlook Converter. This has been carefully built with many features to simplify the converting process without jeopardising data integrity. Download a demo version of the software to conduct an analysis.